Snarky Post of the Week
I'm not sure if this will become a regular posting on this site, like the New Music of the Day/Week, but it's time for the Snarky Post of the Week. It's a great word and snarky posts run rampant in the blogosphere, especially in the techie/Techmeme/TechCrunch sphere. In the words of Dane Cook, "He was being very snarky with me. Yeah, snarky. Its a word, google it."
This week's snarky post goes to Nick Carr, someone who's rather familiar with the art of snarkiness, and his response to the new new journalism. We have his classic sarcastic commentary (no cynicism yet but it's bound to come) and the real sucker punch, blasting the blogger for bad punctuation and spelling: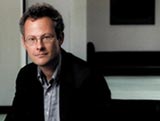 At first, I admit, I didn't "get it." It seemed like illiterate mush. But then I realized I was looking at the article through eyes corrupted by years of paying attention to the "main stream media." What I had thought were signs of a broken educational system - the seemingly random placement of commas, the spastic syntax, the obnoxious overuse of quotation marks, the goofy misspelling of "Jouralism" - were actually signs of the New Instantaneousness. "Instant Jouralists" cannot be concerned with punctuation and grammar and spelling. That stuff just "slows you down." To be an "Instant Jouralist," you have to write as if you were being pursued by a cheetah across the Serengeti. Don't stop to think. Just let it rip. And who needs that "n" in journalism anyway?
Forget Carr's cynicism about the future of IT, let the snarky commentary about blogger's inherent flaws (writing/posting before thinking, believing technology will solve everything and redefine the old rules, etc.) become his real trademark.